Beginning Summer 2017, Sage Fruit will be adding apricots, peaches and nectarines to our mix of offerings. Grown by Valicoff Fruit, all of our soft fruit is tree-ripened for the sweetest flavor. They are also all hand-packed. This allows us to pick when the fruit is more mature without the fear of bruising during the packing process.
Meet the Valicoff Family
Valicoff Family Farms, formerly known as Valicoff Gardens, began in the Yakima Valley in 1921.
In the beginning, they were well-known for their dill pickles and fresh vegetables. Over time though, they started planting tree fruit, and by 1977, the third generation had established Valicoff Fruit Co., Inc. They focused their efforts on wholesaling their crops of apples, apricots, peaches and nectarines.
In early 1990, Valicoff Fruit made the decision to install their first automated packing line in order to offer quality packed apples and pears. They also decided to continue offering a tree-ripened stone fruit program, where all products would be packed by hand.
By 2013, they had installed a new, state-of-the-art apple packing line to keep up with the growth of the company, while also joining the Sage Fruit team. In addition, they have increased their stone fruit production capabilities, but still continue to pack all stone fruit by hand, keeping with tradition.
Apricots
Availability
Jan
Feb
Mar
Apr
May
Jun
Jul
Aug
Sept
Oct
Nov
Dec
Apricots have a similar shape and appearance to a peach, but are smaller in size. Their color ranges from yellow to orange, and often has a tinge of red. The surface of an apricot can be smooth or velvety, with very short hairs. Its flesh is firm with a flavor that can range from sweet to tart.
Varieties Include:
Tasty Rich
Robada
Goldbar
Tomcot
Rival
Honey Rich
Perfection
 Peaches
Availability
Jan
Feb
Mar
Apr
May
Jun
Jul
Aug
Sept
Oct
Nov
Dec
The Pacific Northwest peach harvest occurs July-September each year. Their flesh ranges in color from whitish to yellow. Peaches with a lighter colored flesh tend to be very sweet with little acidity, whereas yellow fleshed peaches have an acidic tang paired with its sweetness. The flesh is very delicate and easily bruised in some cultivars. They have a delicate aroma, and a skin that is velvety.  Depending on the pit, peaches are classified as either freestone or cling varieties. A freestone peach can have its center stone easily removed from the flesh because it is not attached. In contrast, the center stone of a semi-cling peach is strongly attached to the flesh.
Varieties Include:
Sweet Pea
Sierra Rich
Regina
July Flame
Suncrest
Sunny Rich
August Lady
Diamond Princess
O'Henry
September Lady
Sweet Dream
Elegant Lady
Zee Lady
Nectarines
Availability
Jan
Feb
Mar
Apr
May
Jun
Jul
Aug
Sept
Oct
Nov
Dec
Nectarines and peaches are closely related. However, they do have one visible difference, which is their skin. Peaches are velvety, whereas nectarines are smooth. Their skin is brightly colored gold with hues of ruby and pink throughout. You can find two-types of nectarines, yellow fleshed and white fleshed. White fleshed nectarines typically have low acidity and are very sweet. Yellow fleshed nectarines have a higher acidity and their flavor is both sweet and tart.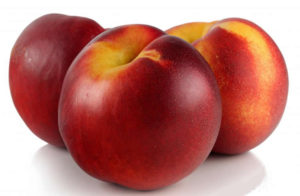 Varieties Include:
Grand Brite
Honey Blaze
Red Gold
Honey Royale
Washington Pride
Grand Candy