Check out the 2022 Sage Fruit commercial, airing Saturday's during MRN's Winged Nation!
---
Sage Fruit Company has teamed up with Tony Stewart Racing for a fourth year. During the 2021 season, the entries of Tony Stewart and Donny Schatz will again carry the colorful and recognizable logo of Sage Fruit as the duo returns to racing action.
The partnership includes associate sponsorship on the No. 15 driven by Schatz and the No. 14 driven by Stewart. Schatz will embark on his 25th season competing with the WoO NOS® Energy Sprint Car Series in 2020, while Stewart is again planning to compete with various Sprint Car series across the United States.
"We're proud to welcome the Sage Fruit team back for their fourth season with Tony Stewart/Curb-Agajanian Racing," said Stewart. "Relationships are everything in this sport and we're looking forward to having the opportunity to build on not only our relationship with Sage Fruit, but those that their brand look to cultivate within the produce industry."
Download Tony Stewart 2021 Hero Card.
Download Donny Schatz 2021 Hero Card.
---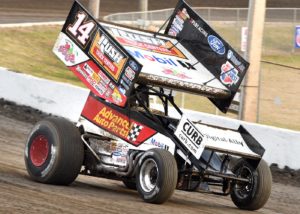 ---