We receive numerous questions throughout the year about how best to use apples when cooking. Questions such as, what varieties are best for pies? Besides dessert, what else can I cook with apples? Are there any varieties that I shouldn't cook with? You really can't go wrong, but today we have put together some helpful tips for a successful apple recipe. We've also included a few fun recipes!
A few basics:
Apples and soup, who would have thought? The depth of flavor in this dish is unbelievable.
Ingredients:
Carrots
Apples (Granny Smith)
2 Cloves of Garlic
2 Sprigs of Rosemary
Coarse Salt & Pepper
2 Tablespoons of Olive Oil
Stock (Chicken or Veg)
(We have an entire board dedicated to just soups on Pinterest – check it out here!)
from Rachel Cooks
Apples are a great addition to the main course of a meal. This recipe pairs creamy Gouda cheese, apples and chicken for a delightful dinner.
Ingredients:
2 large boneless, skinless chicken breasts
1.5 ounces gouda cheese, thinly sliced
1/2 large apple, thinly sliced (Honeycrisp, Gala, Jonagold)
1 teaspoon olive oil
1 teaspoon fresh thyme
1/2 teaspoon salt
1/2 fresh ground pepper
from The Produce Mom
This is one of our favorite apple sauce recipes – It's easy, flavorful, minimal added sweetness and it makes the house smell amazing! Although the recipe calls for Granny Smith apples, another option is to use a number of different varieties. Tart, sweet, juicy… mix it up. You will NOT be disappointed!
Ingredients: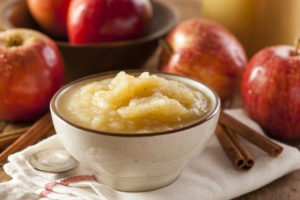 5

lbs

apples

peeled & cored


1

tbsp

honey

1

tbsp

vanilla extract

2

tbsp

cinnamon

ground

1/2

lemons

zest only

2

cinnamon sticks

(optional)
from Baker by Nature
Ingredients:
2 Cups All-Purpose Flour
1 Tablespoon + 1 Teaspoon Baking Powder
2 Tablespoons Granulated Sugar
3/4 Teaspoon Salt
1/2 Teaspoon Freshly Ground Black Pepper
6 Tablespoons Unsalted Butter
1/4 Cup Fresh Rosemary
1 medium-sized apple (Honeycrisp, Braeburn)
1/2 cup white cheddar cheese
6 slices bacon
1 Cup + 4 Tablespoons Heavy Cream
If all else fails, just know…. apples pair wonderfully with cheese! A classic cheese board for a snack or a
friendly get together is both easy and delicious. And, if it's an adult gathering, they are both great compliments to wine. Not quite sure how to pair them? Don't worry, we've put together an entire list for you! Whether you like strong cheese, or mild, sweet apples or tart, white wine or red, there is something to satisfy everyone.