With Thanksgiving right around the corner, we thought it best to share some of our favorite fall recipes! Yes, as an apple company, we like to include them in as many recipes as we can find. But, apples really are a versatile ingredient! They can be added to a savory stuffing, or as compliment to a veggie side. Their uses extend far beyond the usual sweet dessert (although, you know we made sure to include a pie recipe). No matter what you're assigned to bring to your family gathering, all of these are excellent additions to the main course!
Ingredients: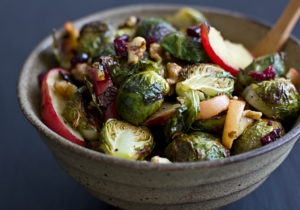 1 lb. brussels sprouts, trimmed and halved lengthwise
salt + pepper to taste
1 tbsp. olive oil
1/4 c. dried cranberries
1/4 c. chopped walnuts
1 tbsp. maple syrup
Ingredients:
1 large or 2 small regular or gluten-free baguettes (1 pound total), cut into 1-inch cubes
8 slices Jones Dairy Farm Dry Aged Cherry Hardwood Bacon, chopped
3 leeks, white portion only, sliced in half, washed, and chopped
2 celery ribs, chopped
1 large shallot, chopped
Salt and pepper to taste
2 cloves garlic, minced
1/4 cup butter
2 apples, peeled, cored and chopped
1 tablespoon fresh sage, chopped
1/2 cup dried cherries or cranberries
2 – 2-1/4 cups chicken broth
Ingredients:
10 apples, quartered
3/4 cup white sugar
1 tablespoon ground cinnamon
1 tablespoon ground allspice
Ingredients
:
1/2 cup uncooked wild rice
2 pounds butternut squash, peeled, seeds removed & cut into 1/2 inch cubes
1 tablespoon olive oil
5 cups kale, center rib removed, and sliced thin
1 medium apple, cut into 1/2 inch cubes
1/2 cup dried cherries
1/2 cup toasted pepitas (or pecans)
Salt
Black Pepper
AND last but certainly not least….
Ingredients:
2 batches of her one minute homemade pie crust
7-8 small Granny Smith Apples, peeled, sliced, and cored
1 stick butter
3 tbsp all-purpose flour
1/4 cup water
1/2 cup white sugar
1/2 cup brown sugar
1 heaping tsp cinnamon
1/4 tsp nutmeg
1 tsp vanilla