For the past four years, The Produce Moms have been putting together a monthly produce challenge calendar. Each day of the month = a different produce item to try! This week, not only am I taking the Challenge with you, but I'll be posting the recipes I used too. We'll also go over how to switch the recipe up a bit to suit your tastes, and whether or not the prep/cook time are accurate.
So, let's get started! Today's Produce Challenge is a Radish. I chose a recipe from Blackberry Babe's website – It's a radish/apple/cabbage slaw, and it's EXCELLENT atop shredded chicken or pork tacos.
Recipe:
Cabbage, Radish & Apple Coleslaw – From Blackberry Babe
Prep Time: 10 Minutes
Ingredients
1. 5 cups shredded cabbage, red or green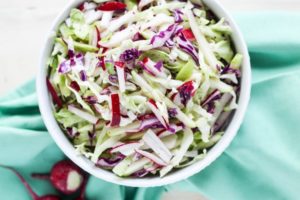 2. 1 cup Granny Smith apple, cut into matchstick pieces – (I used Jonagold instead)
3. 3/4 cup radish, cut into matchstick pieces
4. 2 tbsp white onion, very finely diced
Dressing
1. 1/4 cup sugar
2. 1/4 cup cider vinegar
3. 1.5 tbsp water
4. 1.5 tbsp oil
5. 1/8 tsp celery seed
6. a shake of powdered mustard
7. a shake of salt and pepper
The easiest way to make this slaw would be to purchase pre-shredded cabbage, and (one of my favorites) Duda Fresh's Radish Ministicks. However, my local grocery store was out of both, so I chopped.
Prep time = accurate
Since I purchased a head of cabbage, instead of pre-shredded, I settled on only 1 color – green. It really doesn't matter whether you choose green or red; they both will work. AND, if you DO choose to go the pre-shredded route, you can grab bag one of each color! The recipe also called for Granny Smith apples, but I used Jonagold instead for a sweeter flavor. Jonagolds have a nice crunch to them, and they added a little pop of color to my green slaw.
When measuring 'cups' of my ingredients, I used the handful method; 1 handful = 1 cup. It's far easier than measuring everything out, plus, you can never have too much produce!
Even though mine didn't turn out quite as pretty as Blackberry Babe's, it was still delicious! Overall, the recipe was simple to make and I appreciated how fresh it was (not all of the added Mayo of a normal slaw). I will absolutely be making it again!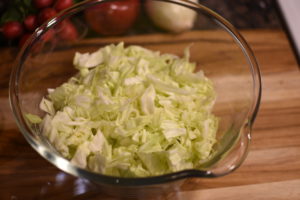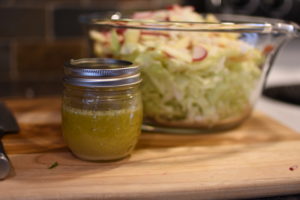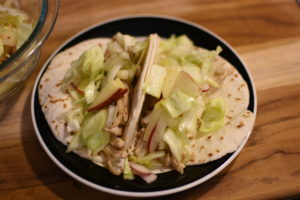 **Side Note** – The shredded chicken was also very easy!
2 large chicken breast
Sprinkle both sides with: Chili powder, garlic powder, cumin, paprika, salt & pepper
Place in a Crock Pot with 1/4-1/2 C of water
Cook on high for 2 hours
Shred & serve!