This morning, I woke up to a blistering cold 20 degrees outside; wind blowing, ice on the roads and, albeit very thin, a fresh layer of snow on the ground. Needless to say, I'm longing for hot sunshine and summertime! So, when the Produce Challenge calendar called for watermelon today, you bet I picked something that made it feel like warm weather was near.
Recipe:
Easy Summer Fruit Salad – From Renee's Kitchen Adventures
Prep Time: 10 mins
Ingredients 
3 cups fresh watermelon, small diced
1 long English cucumber, small diced
1 large apple, cored and small diced
Juice of one lime
1 TBS lime zest
2 TBS fresh mint, chopped
pinch of salt (optional)
Instructions: Combine all ingredients in large bowl. Cover and refrigerate for about an hour to allow flavors to blend. Gently stir and enjoy!
When I was a kid, my mom always had a fresh fruit salad in the refrigerator for us to snack on whenever we wanted. She never added anything extra; kept it simple, but mixed up which fruits she used each week, and ALWAYS used watermelon as the base. This salad reminds me a lot of when I was a kid, but it has a slightly more sophisticated flavor profile with the addition of mint and lime juice. The adult version of my favorite summer snack! (Although, I do think kids will enjoy it too.)
Prep Time = Accurate – All you have to do is dice and mix!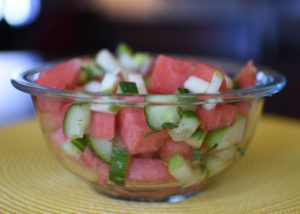 For this salad, I used a Granny Smith apple. The tartness of the Granny  combined with the sweetness of the watermelon adds to the depth of flavor. The English Cucumber is mild in taste, but adds a little crunch. You can easily replace the English Cucumber with a regular one if, for example, there's a large difference in price or if you can't find an English Cucumber at your local grocery store.
A pinch of salt? I switched that out for a sprinkle of Tajin. It's all based on preference, but I regularly eat Tajin on my cucumbers, my watermelon and my Granny Smith apples… so it only made sense to use it on all 3 at once!
Whether you decide to use salt or Tajin, or even if you decide to use neither, you are sure to enjoy this refreshing, Easy Summer Fruit Salad!